Kody
A downloadable game for Windows

Kody is a young koala who has been ousted by his family until he brings home some food. His favorite tool is his bamboo, that he uses to carry on through his adventures. In this colorful and cute platformer, powered from some reflexion phases, everyone can help Kody reaching his goal, but be careful of the forest dangers...
The project has been made by a group of 8 students during 3 months.

Kody est un jeune koala ayant été mis dehors par sa famille pour aller chercher de la nourriture. Son outil favori est son bambou, qu'il utilise pour progresser dans ses aventures. Dans ce jeu de plateformes coloré et mignon, alimenté de phases de réflexion, chacun pourra aider Kody à atteindre son but, mais gare aux dangers de la forêt...
Le projet a été réalisé par un groupe de 8 étudiants durant 3 mois.
Promo : 2017/2018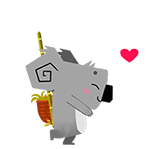 Kody has been made by
Robin Six - Programmer & Lighting artist

Astrid Rotelli - Game designer & Character designer
Antoine Tardieu - Art director

Flavien Rombouts - Level designer
Alexis Broutin - Level designer
Sylvain Willekens - UI & UX designer
Isabelle Lardinoy - Environment artist
Install instructions
Unzip the project and double clic on the executable file.
Dézipper le projet et double cliquer sur le fichier exécutable.